Earlimart
Treble & Tremble (Palm Pictures)
By: Alex Steininger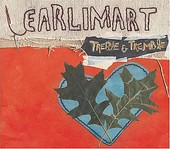 Earlimart's latest, Treble & Tremble continues with the band's beautiful pop sensibilities wrapped inside indie-rock nuggets. The songs glow bright, whether they're leaning more to the folk side of things ("All They Ever Do Is Talk"), subtle, laid-back grooves ("Broke the Furniture"), experimental indie-rock ("Unintentional Tape Manipulations"), or bouncy rock ("Heaven Adores You").

Fronted by Aaron Espinoza, Earlimart turns Southern California's sun-soaked, blistering indie-rock into a more contained affair, not unlike that of their friends Grandaddy, preferring to relax and have a good time rather than shove their message in your face. The result is a soothing, though not slumbering affair that will make you want to dance and sing along at times, but isn't uncomfortable allowing you some pillow-y melodies and delicate grooves to settle into, either.

The band also isn't afraid to experiment, creating walls of guitars backed by mid-tempo percussion to drive the swirling sounds home, while the next song laying low a bit and offering up a jangle-y indie-rocker that you can bop to.

Earlimart is one of the most underrated bands in rock today and Treble & Tremble is proof of that. The band can roam around in the genre, applying themselves to a few sub-genres and doing them well, and their melodies are matched by few. Lyrically they excel as well; Espinoza compliments his song perfectly with lyrical content that fits the mood created by the music -- and not the other way around.

This is a stellar accomplishment and one that should, if a fair world, catapult them to the top of the indie-rock food chain. I'll give it an A.