VARIOUS ARTISTS
What's Up Buttercup? (Lazy Cat)
By: Gary "Pig" Gold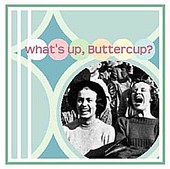 At least three thousand cheers right now for Maki Kobayashi and Lazy Cat Records of Japan who, for the umpteenth time already, have gone and assembled one of the absolute best pop/rock, rockin' pop, country and/or alt-pop collections this side of Sound Asleep Records of Sweden.

Perfectly produced, programmed and packaged, the fifteen tracks herein (starring, in no particular order, Chris Von Sneidern, Cranbury Sauce, Bill Lloyd, The Lolas, the amazing Willie Wisely, Eytan Mirsky and even The Incredible Casuals amongst a full eight others), actually create a virtual little International Pop Overthrow Festival in the privacy of one's own Walkman, not to mention provide a handy compendium of the very coolest indie sounds out there.

"What's Up Buttercup?" Why, nothing but plenty of musical sugar and spice to go around, that's the truth!