Various Artists: Wig In A Box
Songs from and inspired by Hedwig and the Angry Inch (Off Records)
By: Alex Steininger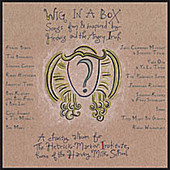 A tribute record to the movie Hedwig and the Angry Inch. A movie about a boy from communist Berlin who dreams of becoming a rock and roll star. Has a sex change operation to marry an American solider whom promises him (her) a better life. Only to have the operation botched and Hansel, the boy, now known as the 'female' Hedwig, residing in a Kansas trailer park.

Hedwig's songs are soon stolen by16-year-old friend Tommy Gnosis. Gnosis then becomes the stadium-packing rock star Hedwig dreams of.

A soundtrack with the music from Hedwig and the Angry Inch was released, and Wig In A Box: Songs from and inspired by Hedwig and the Angry Inch celebrates that.

But, not only is it a tribute record, it is also a benefit record for the Hetrick Martin Institute's Harvey Milk School, one of the largest not-for-profit multi-service agency dedicated to serving gay youth.

To both celebrate the movie and the benefit nature of the tribute record, Off Records' founder Chris Slusarenko lined up an all-star cast for the record, including the writers of the film, John Cameron Mitchell and Stephen Trask, who contribute a track. Also included: Rufus Wainwright, Sleater-Kinney with the B-52's Fred Schneider, They Might Be Giants, Robyn Hitchcock, Imperial Teen, The Breeders, Bob Mould, Spoon, and three Bens - Ben Kweller, Ben Folds, and Ben Lee (together on one track).

Not to mention the stunning collaborations between Cyndi Lauper and the Minus 5, as well as Yoko Ono (!!!) fronting Yo La Tengo.

If that isn't reason enough to get excited...

Wig In A Box goes off without a hitch, each artist rendering their cover flawlessly, re-inventing the song and making it their own, often times (and I mean no offense with this), making the song better than the original.

It's a good cause. It's a good record. And has the most unlikely collaborations on it at times. All these things point to - buy this record. Music fans, movie fans, and curiosity-ruled consumers will all find joy in this disc.

I'll give it an A+.