INTERVIEW: Har Mar Superstar
Somewhere between porn star Ron Jeremy and fellow funk and R&B Minneapolitan Prince (Har Mar Superstar's web site)
By: Angelo de Ieso II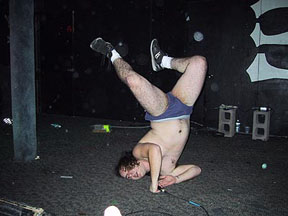 Somewhere between porn star Ron Jeremy and fellow funk and R&B Minneapolitan Prince lays the silly soulful infection that is Har Mar Superstar (aka Sean [Harry Martin] Tillman). Har Mar is either a multiple personality or long lost brother of Sean Na Na, an emerging indie rocker gone playa' with a major label sophomore release You Can Feel Me (Warner Bros.) following his 2000 debut self-titled on the Kill Rock Stars record label. Since then, Har Mar's success with his last release has opened many doors for the artist including a date with Kelly Osbourne at the MTV music awards, and a variety of big time gigs with artists like the Strokes, the Shins, and the Pattern.

You Can Feel Me includes Tillman with the help of friends such as the Busy Signals, Beth Ditto from the Gossip, and members of the Faint. The result is a tightly produced, high-energy sex bomb comparable to the Artist, Rick James, and Stevie Wonder.

I caught up with Har Mar after his provocative performance with the Thermals and the Pattern at Berbati's Pan in Portland for a little Q & A in attempts to pick the brain of this sweatjockey MC. Here's how it went:

Angelo: How's it going, man?

Har Mar: Pretty good, man. What's going down?

A: Not much. How are you doing?

HM: Just chillin', man. Hangin', rockin' Portland.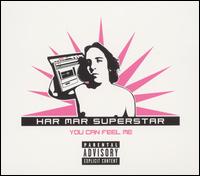 A: So you've got a new album out--
HM: Yeah. It just came out a week ago.
A: How's the tour going?
HM: It's going great! I've been out like a month and a half--still have about 5 weeks to go. Just trying to get everyone in the country to party super hard with me. (Chuckles)
A: So, you have a pretty freaky live show. What's your inspiration?
HM: Just entertainment, man. I like to entertain people so I try to do what I can.
A: You do some Stevie Wonder--
HM: I love Stevie Wonder, yeah. I draw from a lot of people. But, yeah, Stevie Wonder is one of my biggest influences ever.
A: You incorporate a lot of funk in your live show--
HM: Yeah. I mean a lot of R + B beats and hot times. It's summer in the city.
A: What are things like back in the Minneapolis-St. Paul scene?
HM: I don't really know. I haven't really been there for a long time. I've only been home for like 2 months this year. All my friends there are doing well, so I guess that's all that really matters. It's good.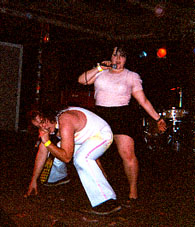 A: Cool. You are touring with the Pattern for a little while, right?
HM: I am with them for 2 weeks right now. And we are almost done with our little tour together. We did the UK together in August, which was super fun.
A: Who else have you been playing with?
HM: I was out with the Strokes for a while, Incubus for a while. I'm going out with the Gossip pretty soon, and then--I don't know. Trying to do some stuff with the Mars Volta--and a bunch of bands--
A: What do you see in the future for Har Mar?
HM: I don't know, man. Probably building up my live show and trying to get a lot more people involved and making a lot of money I guess (laughs) Hopefully--while having a great time doing it.
A: Are you still doing the Sean Na Na thing?
HM: Uh--er--that doesn't get to be talked about.
A: Oh, I mean your brother's band?
HM: Sean Na Na happens.
A: Yeah? Which one is more fun?
HM: (laughs) I don't know. I have more fun because I'm Har Mar doing Har Mar. Sean Na Na-I don't do anything so-- A: What do you think about the Ron Jeremy comments at the show tonight?
HM: It happens every night. It's not original. It's easy. It's not like I blame anyone. I don't get mad about it. I mean, I tried to look like him for a long time and now it works.
A: You have done a lot of work with the Busy Signals. What is it like working with Howard?
HM: We just basically hang out in his bedroom and sit around and daze-out and make beats, drink Coca-Colas and go to Arbys and stuff like that until the songs done. (Laughs) Things like that--it's fun. It's good times. Howard's a really good friend of mine.
A: He was in town a while ago.
HM: Yeah, with the Shins. I'm friends with those dudes, too.
A: What words of wisdom do you have for anybody aspiring to be a musician today?
HM: Have fun, party your way through everything and don't expect anything. And when good things happen, don't take 'em for granted. That's all. Keep your friends. Stay friends with everybody --enemies are bad. Everybody comes back to do something great.