INTERVIEW: Havalina Rail Co. (Fan site)
Interview with Matt Wignall, vocalist/guitarist/songwriter
By: David Jenison


Long Beach's Havalina Rail Co. may just be the coolest underground band in Southern California. With ten thousand copies sold of their last album, Havalina is only partly underground, but the band's sound is like nothing you're likely to hear anywhere else. Struggling to find a description, one might call Havalina a contemporary jazz band that utilizes pop and rock song structures. A contemporary jazz band may imply a certain image, but Havalina is definitely way beyond what you're probably thinking. Havalina may be avant garde in their sound, but they are very contemporary and youth-oriented as well, which explains why they've played with a number of punk bands, including MxPx.




To date, the band has released four albums - self-titled (1994), Diamond in the Fish (1996), Russian Lullabies (1997), and the brand new album, America, which is by far their best. America features twenty-four tracks, six of which are short interludes, which skillfully balance artistic originality with pop hooks and melodies. Their skills show up most notably in the song "Devil in the Cornfield," which features a very authentic blues sound that few white songwriters can pull off. Much of that credit goes to vocalist/guitarist/songwriter Matt Wignall.

Wignall - whose bandmates include Orlando Greenhill (bass), Jeff Suri (drums), Mark Cole (percussion), Erick Diego Nieto (violin, percussion), Tatiana Simonian (organ), and Lori Suri (washboard, vocals) - is not just a brilliant songwriter and musician. He has also distinguished himself as an exceptional engineer and producer and even co-owns an indie label called Jackson Rubio Recordings (who's released the last few Havalina albums). The band, which has toured the nation five times, is preparing to tour again in support of America. Happy Magazine caught up with Wignall during down-time in the studio to find out more about the new album and how he came to create such a distinct yet accessible new sound.

It is very difficult to describe your music to someone who has never heard it. How would you describe?
"We are a hybrid of traditional American music including folk, blues, and jazz, with a streak of Brazilian and a lot of Les Baxter and Henri Mancini. We tend to write pop music in a rather orchestral fashion."

What originally drew you to this kind of music?
"We all grew up listening to classical, and several of the band members are classically trained. I have also always been into people like Neil Young who, through the years, have done a wide variety of music that tends to shift with their moods or current interests. In high school, I would listen to KLON jazz radio on the way to school, the Pixies on the way home, I would work on art at home to Sonic Youth, and then listen to Les Baxter or Tom Waits. We all like an enormous variety of music, and Havalina allows us to speckle all of them together into individual songs."

What kind of music did you grow up listening to?
"Simon and Garfunkel, The Ventures, The Cure, Depeche Mode, and Bob Dylan."

What is the strangest reaction you've gotten from someone who's heard the music?
"They became a fan and bought all four records. It's always amazing to us when people like what we are doing."

How is the America album different in sound than the Russian Lullabies album?
"Well, Russian Lullabies reflected our impressions of Eastern Europe, so, naturally, doing an album of American impressions in going to be different in that regard. I would say this is also the first time we have taken a concept record the whole way with the art and such so that people would really get it. The previous two records were concept records, but they were a little too elitist and self-indulgent."

I know you have a strong faith in God. Does your faith ever enter into your music?
"I do believe in God, and an individual's world view is going to influence their art, but I don't think my Christianity affect the band in a blatant way. We are not on a campaign to bring God to the world through our band, but in the same way as Buddhism is subtly professed throughout the Beastie Boys later records, one can also find elements of spirituality throughout our music. To be honest, sometimes I don't like to be associated with Christianity because of the many stupid things professing Christians do in the name of God, church or whatever else."

Tell me about your record label.
"It is a small independent label called Jackson/Rubio Recordings. We have around eight bands on the label, some of which are fairly well known such as Soul Junk (formerly of Kim Gordon's Homestead label) and The Halo Friendlies, an all girl group that did a few spot dates on the Warped tour last year. I basically run the label with the most organized girl in world, Vickie Donovan, and my partner David Borbon. We try to sign bands that are artistic and creative and who don't fit in. For that reason, we think of it as a modern punk label."

You also work a lot as a producer and engineer. Tell me about that.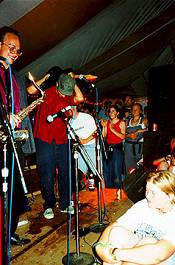 "My studio is called Tackyland, and I generally work in the studio with Steve Hodges (who drums on the new Tom Waits album and with Mike Watts, most recently). We like to record everything on analog in the most old fashioned ways possible."
How's touring for the band? Have you had any bad experiences?
"On one tour the engine seized in Limon, Colorado. We were stranded there for three days, and each day the wind would blow cow stench through the town. It was horrific. We then traded the seized van and some money to some guy for an old van he had that ran but had weeds growing into it. We piled all our crap into it, took off, and then it broke down before we even got out of town. We stayed there for another day with a mechanic working on it. A week later, we blew a tire on it, and then a week after that, we broke the U joint on it. After that, we were looking for a place to go fly fishing in IL and someone told us there was a good river behind the old graveyard. We drove into the graveyard, and while we were looking at the river, I ran into a big old grave stone, and it ripped the metal off the side of the van. Worse than that, the van yanked the grave stone out of the ground. We drove off really fast."
Lastly, what does the name mean, and why did you add on Rail Co.? (the first album was simply Havalina)
"It doesn't really mean anything. It was taken from the last track on the Pixies album Bossonova, and we just added the Rail Co. because, ex post facto, we found out there was a band called The Havalinas. Of course, they're gone now, and we're still here."