Bill Lloyd
All In One Place (Def Heffer)
By: Gary "Pig" Gold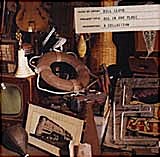 Those not already on a first-note basis with the beauty, the splendor, the wonder that is Bill Lloyd can easily use this handy brand-new collection of compilation and tribute album tracks in order to get one's ears wet to what all the fuss is about surrounding Nashville's pure pop king.

A splendid songsmith in his own write of course (you DO all have your own copy of Bill's "Set To Pop" ceedee, don't you?), it's a rare treat indeed to also hear The Hollies, Raspberries, Harry Nilsson and especially Bobby Fuller get the big-guitar Lloyd treatment as well.

The packaging is exquisite, the sequencing sublime, and needless to say the sounds throughout ring nothing if not absolutely spot-on and true blue. So even if you're a solid convert already, this package is still, in a single word, essential.