Bill Lloyd (Email)
Standing On The Shoulders Of Giants (Koch Records)
By: Gary "Pig" Gold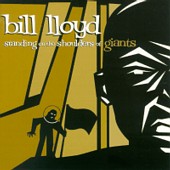 Anybody reading today who considers themselves any kind of fan - not to mention student- of Contemporary American Pop should have long ago more than acquainted themselves with the wonder which is Bill Lloyd. As both an acclaimed solo artist, no to mention the "L" half of the fantastic Foster & Lloyd, he's already created far more than his fair share of future-passed classics. Now, after a wait of too many years since his indescribably fabulous Set To Pop album, our hero returns with a tougher-sounding overall, yet still waist-deep in infectious song-craft collection of pot-boilers, heart-breakers and, yep, the odd Moptop reference or two.

From the very get-go (the title track's buoyant Wings-vintage Moog lines) to the very end (with Song 14-C's possibly definitive reading of "Wipe Out"), Bill's never afraid - nor should he ever be ashamed - to wear his musical influences plainly atop his sleeve. As the man himself so correctly states, "I think that it's important to tip your hat to the people who inspired you, but you still have to keep the faith that when those lessons get run through your own talents, it will sound new." Done! One listen to "Cool and Gone" (Quadrophenia-era Townshend meets Tom Petty by way of those Everly Bros.), "Sweet Virginia" (more Small Faces than Stones) and "So You Won't Have To" (Buddy Holly Y2K!) prove Bill's composing and arranging skills never fail to cast fresh light across age-old musical shadows. And as for the Here and Now, "Holding Back the Waterfall" is absolutely the greatest Lloyd/Marshall Crenshaw collaboration since their legendary "I Went Electric," and seldom could one imagine a rhythm section as dream-teamed as Dennis Diken and Tom Petersson being adapted so skillfully to meet another's needs ("Dr. Roberts Second Opinion" is, dare I proclaim it, the greatest Lost Lennon Tape that never was).

More toughly confident than his previous work, but still with a sense of song so refreshingly tongue-against-cheek ("Complaints" should score just about each and every talkshow currently upon the toob), Standing On The Shoulders Of Giants is the kind of loosely-but-lovingly constructed opus there just aren't enough of being made in these daze of oh-so-political (not to mention musical) "correctness." God Bless Bill Lloyd then, for daring to keep the F-U-N forever deep in his work, and in doing so putting the Roll back in the Rock - back to where it once belonged.