The Like Young
Looked Up Plus Four (Kittridge Records)
By: Angelo de Ieso II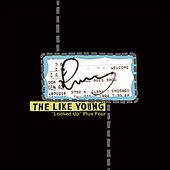 Recently married Chicagan couple Amanda and Joe Ziemba have been making sweet and uninhibited catchy pop tunes since 1997 when their saccarine outfit Wolfie released a tape called Necesary Sailing.

Since then, Wolfie released three full-lengths, an e.p., and five 7"s. Their fuzzy bass tones have incorporated bigger riffs to core indie-pop melodies in The Like Young -- the end result embraces power pop comparable to that of the Benjamins, Weezer or the Rentals. Their latest incarnation, the Looked Up e.p. includes the title track from the forthcoming album Art Contest due out on Parasol later in 2003.

The other four cuts are exclusive tracks definitely worth being album tracks. Despite some tangental, off-the-cuff lyrics ("I see your coat. It falls below your knees. I see my breath. I'm bound for floors where I'll be dreaming. So I took a picture"). The duo harmonizes so well both vocally and instrumentally that it is astounding to think that such a sound could be produced by just two individuals (it sounds as thick as Wolfie, a four-piece). Still the feel is raw and unihibited which allows them to retain their indie-rock cred.