VARIOUS ARTISTS: Sounds Eclectic Too
Benefit Album for KCRW (Palm Pictures)
By: Alex Steininger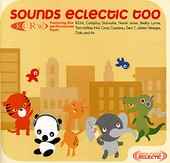 A benefit album for KCRW, the non-profit public radio station licensed to Santa Monica College in Santa Monica, CA, Sounds Eclectic Too features some of the biggest names in both the major and indie markets.

Chris Martin from Coldplay delivers a spellbinding solo piano version of "Yellow", while Dido's "Here With Me" strips away the studio sheen, taking things down a notch for an intimate look at this shining pop nugget. R.E.M. offers up a surreal rendition of "I've Been High", while current chart topper Norah Jones' "Feeling the Same Way" brings to life her lounge-pop sound. Other notables include Zero 7, Air, and Nick Cave, the latter's "Into My Arms" the high point of the album, a shuddering piano piece fleshed out by drums and violin, the dark, sultry song played to perfection.

To support KCRW should be enough of a reason for you to pick this up. With its outstanding line-up, however, you don't have a reason not to. Some of the hottest artists making music today delivering awe-inspiring, intimate performances, you can't go wrong. I'll give it a B+.