Canada Calling!
By: B.F. "Mole" Mowat


No Notes Are Good Notes! Just ask the Nihilist Spasm Band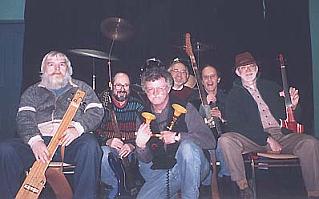 They should know. Since 1966, this London, Ontario group has been performing regularly and intermittently recording completely improvised music.
And when I say improvised, I mean like, from scratch. Any references to pre-existing forms are studiously avoided. The instruments are home made concoctions, designed to studiously avoid anything with a set, regular pitch. Everything -- even the kazoo (except the drums, though) is amplified using electric pick-ups.
Which means its LOUD, y'know. Kind of like rock, except without the tunes, a regular beat, the spandex, and the sex appeal. The closest thing in semi - popular music I could describe the NSB to would be The Stooges, "L.A. Blues", the closing freak-out track of the classic 1970 Funhouse LP. And I'm willing to bet at least one Stooge present knew of the NSB's existence. London, Ontario, where the NSB is based, is a mere 90-minute drive to Ann Arbor, Michigan. And the NSB had been playing together for four years prior to the Funhouse sessions, so.
Funny thing, the band line-up has remained essentially the same over the years. It's pretty much always been: John Boyle (artist) kazoo and drums, John Clement (MD) guitar and drums, Bill Exley (geezer/latinist) vocals, Murray Favro (artist) guitar, Hugh McIntyre (curmudgeon/polymath) bass and Art Pratten (pensioner/gentleman of leisure) Pratt-a-various and Waterpipe. Only members Greg Curnoe (deceased) and Archie Leitch (permanently retired) play less often.
Having together for so long, this outfit has learned to play off each other, to the point where it achieves its own inner logic. It's a wonderful thing, even if %99.5 of the sentient population out there would probably run screaming after being in the same room with this outfit (recorded or live).
I had always known about the NSB's existence, but never got to actually hear exactly what they did until Dan Dunham of Shallow North Dakota (a group deserving of their own write-up - soon) handed me the 1998 dbl-CD compilation Screw (it's held together by one). Once I heard the track, Bellchamber, I was hooked. It used to be a favourite radio show-closer on my CFMU-Fm program. When I started doing the internet radio show, Underground Parking, over at www.creativeradiocentral.com, I knew the NSB HAD to be featured. And so they are: the track "Mature Consideration" (taken from the 2001 double CD No Borders) is now in rotation on the new episode. Once every four hours or so, whether you need to hear it or not.
A word about the NSB lyrics, the only non-improvised aspect of the performance: they are great gobs of verbal spew. Many of the performances on No Borders, for example, are suitable for framing, or as creative messages for your telephone answering machine/service. The aforementioned Mature Consideration comes to mind, as does the very timely United Nations ("Slow as Molasses/United Nations/Won't Kick asses") and Going Too Far. If sarcasm could be measured in degrees, such outfits as Fear and The Forgotten Rebels would barely register on the thermometer next to this bunch.
All this activity has not gone unnoticed. The last time Sonic Youth played up in Toronto, they got the NSB to open for them Never mind the band members were old enough to be the grandparents of most of the audience present: They STILL baffled many a wee mind that night. I wasn't there, alas, but my "eyes" were out for me.
For more information on this wonderful outfit, please go to: http://www3.sympatico.ca/pratten/NSB/.
Buy ALL of their recordings and when you're in London, Ontario on a Monday night, check out their weekly Forest City Gallery (795 Dundas Street, London, Ontario N5W 2Z6 phone 519-434-5875) shows. They've been doing them for 37 years non-stop, and it's the best show you're going to see in Canada on a Monday night. Trust me...
Tim McB starring in "Figment Bee"!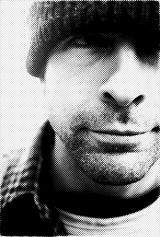 Some of you with extended memories may remember the very first Canada Calling column featured the ubiquitous Tim McCarroll-Butler. Mr McB, as he has been dubbing himself lately, has just put out another full-length work entitled Figment Bee, and it may be very well the single most accessible thing he's ever done. There are songs such as Art and Stop here that would play well on the pop charts of better world than the one we currently reside in.
Still, it wouldn't bee a McB CD without a twist or three, and there's a few of 'em here. The usual guitar/bass /drums line-up gets augmented with electronics, violin (Erin Aurich! Take a bow!), and home-made percussive dee-VICES. The lyrics are spot on, as usual, and best of all - you can now purchase this recording in these here United States!
Just go to www.cdbaby.com baby, they'll set you up.
Other stuff I got in the mail: The Organ Sinking Hearts EP (Mint/604) this Vancouver outfit might have actually sounded better with a faux rhythm player (i.e. a box). I could see them doing a Young Marble Giants kinda thing. You know, minimal, creepy noir-pop circa 1980. But noooo, they had to go and try to cop rock respectability. Note to CBC West: The work of ex-Velvet Underground tubster, Moe Tucker can in no WAY be remotely equated with cub or this outfit. Same gender, WAY different levels of competency. You folks are waaaay off-base. (Diss me on national radio why dontcha..) The Salteens Let Go Of Your Bad Days (Mint)... Nice baroque instrumental touches (I like hearing non-rock instruments!) but I already HEARD the Lefte Banke, y'know? I really can't get excited over this lightweight pop stuff. Even if it does feature Mr. Dahle, star of that last, GREAT, Mark Kleiner CD, Love 2 Nite.
If you are going to send stuff, may I suggest you e-mail me first and tell me about yr work of genius? It's [email protected]. Unsolicited material will be destroyed in an appropriate manner.
If I'm around next month : The Raving Mojos! That's a big if though.