Canada Calling! With Your Host, Bruce "e-Mole" Mowat
This Month's Topic: A Dozen Canadian Singles That Made A Difference
By: Bruce "e-Mole" Mowat



Well they made a difference to ME, anyway. You may notice a lack of Guess Who, Bachman Turner Overdrive, Mashmakhan, etc See, we have this thing where the government forces commercial radio stations to play %30 Canadian written and or produced material on the airwaves. As a result, we are subjected to These Eyes, You Ain't Seen Nothin' Yet, etc, ad nauseum on a hourly basis. Not that I actually listen to commercial radio, but even the very mention of these items jerks my chain in a not-nice way. Okay, maybe not Mashmakhan.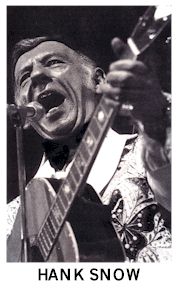 1 -- Hank Snow -- I'm Movin' On (1951)
The Nova Scotia native spent something like 13 weeks on the top of the country charts with this prototypical trucker anthem. You know how a lot of Canadian bands in the mid-60's would use the Rolling Stones as source material? Well, the Stones covered Hank Snow on one of their LPs (the American version of December's Children). Kinda puts things in perspective, doesn't it?
2 - Stompin' Tom Connors -- Bud the Spud (1970)
This here guy from P.E.I (Prince Edward Island -- the smallest of the 10 Canadian provinces) cut his own trucker anthem, based on a real life trucker, who -- up until recently -- was still "rippin' the tar off the 401". The 401, by the way, is a long stretch of road that goes from Detroit to Montreal. It is a very boring drive. Take lots of CDs with you in the cab, if you go..
3 -- Teenage Head -- Top Down (1979 45 recut)
Teenage Head was Canada's answer to the Ramones, New York Dolls, and the rockabilly redux crew all rolled into one literally riotous package. The original version of this song, taken from the self-titled 1979 LP, was a high octane trip that sounded like it was recorded in a cardboard box. MMMmfffFfle, y'know. This re-cut though, comes in Full Colour Stereo, with reverb aplenty, a cameo appearance by a spinach-pepped Popeye, and shooby-wahs by The Beached Men aka The Shakers (Dave "Rave" Desroches & Rockin' Rick Andrews).
4 -- Jack Scott -- The Way I Walk (1959)
Yes, the Cramps and Robert Gordon recorded this Windsor, Ontario native's contribution to the rockabilly canon. The original, though, really should be heard. It is an exercise in understated cool.
5 -- The Painted Ship -- Little White Lies (1966)
The fact that it took a buncha dorks from Rochester (e.g. The Chesterfield Kings) to make people up here aware of the West Coasts' contribution to garage punk only underscore how lame this country can be. Some of these people would turn up at folk festivals in the early '70s, but we won't talk about that.
6 -- Ugly Ducklings -- Nothin' (1966)
Jean-Paul Sartre plays The Stones 12x5, duly notes riff to "Empty Heart" and one ups the original. This was Toronto, Ontario's finest contribution to garage-rock history in the mid-60's.
7 -- The Haunted -- 1-2-5 (1966 taken from the Rhino Nuggets box set Vol.2)
This is the third installment of the Holy Trinity of Canadian Garage-rock. In which Montreal zit farms score a "cheap trick", via mutated Stones riffs.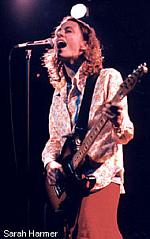 8 -- Sarah Harmer -- Don't Get Your Back Up (2000/2001)
Just for the record, I never liked the collegiate-pop sensibilities of Kingston's Weeping Tile. Furthermore, I think the pseud-twang re-recording of Pink Floyd's "The Wall" by Tile-spin-off Luther Wright & The Wrongs is nothing more than a novelty a go-go cash grab. It was funny the first time, sure, but would you want to own it? I think not. Having said all of that, I think this single is a stone classic. It captures a time, a world-weary mood, and a place perfectly. When I was a house-husband for two years (2000/2001), I didn't listen to any music, save for 15th and 16th century polyphonic choral pieces, and whatever dreck was playing on the Lite format radio station in the lobby/laundry room. This was the only thing that made me perk up, and realize there was still a world with real nerve endings outside. It's also better than anything recorded by Neil Young or The Cowboy Junkies in the past 10 years.
9 -- Michael Pagliaro -- Some Sing, Some Dance (1971)
Anglais lyrics for this Quebecois artist were supplied by future music-biz big-shot Bernie Finkelberg. Pagliaro was already H-U-G-E in his native belle province back in the '60s through his rawkin' work with Les Chanceliers, but wanted to break into the international Pop market.
Enter Bernie, who was also responsible for Lovin' You Ain't Easy.
Sample: Some sing, some dance
Some like romance ("like" pronounced w/two syllables)
I love lovin'
Who could have guessed Bernie had such a jasmine mind?
10 -- Steel River -- Southbound Train (1971)
A mid-'60s Toronto R&B outfit that mutated into one of the most under-rated acts in Canadian rawk history. "Southbound Train" was driven by an irrestible guitar and piano riff that was better than anything on Sticky Fingers. The group disbanded in 1973. Did I tell you I met ST drummer Dennis Watson once at a pizzeria on Isabella Street, near Yonge Street?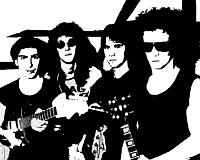 11 -- Simply Saucer -- She's A Dog (1978 Pig 45- reissued May 20th, 2003 Sonic Unyon)
"Yes Beauty may be only skin deep, but ugly goes to the bone"
The late, great Cub Koda (he of Smokin' In The Boys Room infamy) wrote those words about the Saucer, the very first alternative rock act to come out of the Great White Wasteland in 1974. This, their 1978 45, is the pop-piest thing they ever did, but that doesn't lessen its value in my eyes. It, along with the earth-scorching 1989 Cyborgs Revisted LP tracks and some smokin' dual-guitar rock stuff from '77, are being readied for CD re-release even as I write this--
12 -- Ian & Sylvia -- You Were On My Mind (1964 Vanguard)
American listeners know this song through the perennial We Five covert pop "oldie". What you missed from the original: the "I Got drunk/I got sick/ I came home" lines.