Evanescence
Fallen (Wind-Up Records)
By: Alex Steininger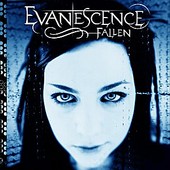 Led by 20-year-old vocalist Amy Lee, the Little Rock, Arkansas quartet known as Evanescence fuses nu-metal, goth, and pop into a made-for-radio collection of sing along anthems for the disaffected youth of today. Their debut, Fallen is the perfect escape for those junior high and high school children who feel lost from their own beliefs and religion, as portrayed on the band's Christian-referencing song, "Tourniquet".

"Am I too lost to be saved? Am I too lost? My god, my tourniquet. Return to me salvation," sings Lee, struggling as her own actions and beliefs square off against each other while she tries to find herself and redefine what exactly she believes.

Most know the band for "Bring Me To Life," originally appearing on the Daredevil soundtrack, and propelling the band to platinum status. Featuring label mates 12 Stone's Paul McCoy duet with Lee, the song has the radio stamp of approval all over it, fitting in too well with every other suburban, angst-driven white-boy metal band out there, Lee's youthfulness and female perspective the only saving grace.

However, for a sound that needs to die for music to survive (jaded music critic thinking there, though at times it seems that bad), Evanescence mask the testosterone rock with Lee's soft, yet equally dramatic, driving vocals. Lee ensures the metal and pop have equal footing, the balance a nice change of pace which helps place Evanescence at the top of the nu-metal heap, despite their relative youth as a band. I'll give it a B-.