Voivod
Voivod (Chophouse/Surfdog Records)
By: Athena Schaffer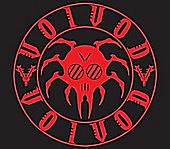 Eponymous albums are usually the signature of bands' first efforts, not of seasoned veterans who have other works under their belts. But the title is reflective of Voivod's overall style - a clear attempt at staying true to their roots, and honoring some of their main influences as they do so. The result was indeed a refreshing demonstration of musicians who can grow with their craft while still delivering a raw, unpretentious sound.

One of the influences visibly honored is early Black Sabbath, circa the Paranoid era. For instance, the end of "Blame Us" sounds very reminiscent of "War Pigs". This end clip of the song sounds like a separate song on its own, and one really has to check the cd counter to know it's all part of the same one; the rest still with politically provocative lyrics and a sound very much Voivod's own. The intro to "I Don't Wanna Wake Up" brings Sabbath's "Planet Caravan" to mind before it segues into an audio assault.

Although all these songs can probably stand the test of time in their own right (like the aforementioned "Paranoid"), there are a few special gems among the mix. For instance, "Facing Up" has one of the best instrumental riffs on the album, with lyrics that in essence tell the listener to "wake up and smell the coffee". The haunting echo effects on the intro to "The Multiverse" definitely grab the listener's attention before lyrically launching into pondering the eternal questions of the universe.

"We Carry On", the thirteenth and final song on the album, has a quiet lull before it and for all the world sounds like a "hidden track" and indeed has an eerie aura about it. This song was chosen as the first video from the album, which was directed by Keith McCabe and Jeff Ertl, who were technical directors for films such as "Star Wars: Phantom Menace", "Star Wars: Attack of the Clones", "Minority Report", and "Harry Potter & The Chamber of Secrets".

Former Metallica alumni Jason Newsted is definitely an asset to the other long-time members of Voivod. Kudos, Jason, for heading the new Chophouse Records label, and kudos to the band as a whole for all their extra efforts supporting "Little Kids Rock", an effort to get instruments into the hands of children and fostering a lifelong love of music.

Voivod are hitting the road with Sepultura this Spring (2003), and are touring Canada this Summer before joining up with this year's Ozzfest.