Alien Crime Syndicate
Break the Record (The Control Group)
By: Alex Steininger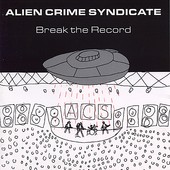 Seattle's ever lovable power-pop-punk outfit Alien Crime Syndicate, follow up their V2 Records debut, XL From Coast To Coast, with the Break The Record single, the second single off the record (the first being the should-have-been hit "Ozzy").

Opening with the album version of "Break The Record", a crunchy, sing-along anthem, Alien Crime Syndicate demonstrate their ability to write bouncy, fun songs that get you singing, but have enough oomph to make you get up out of your chair and rock out.

The next cut, a cover of "Don't Go Breakin' My Heart", includes guest appearances by Kim Warnick (ex. Fastbacks front woman) on guest vocals, and former Guns and Roses member Duff McKagen on bass. Another slab of catchy, rockin' sing-along power-pop.

Finishing off the album are two live tracks recorded at the Troubadour in Los Angeles by Westwood One. Both cuts can be found on Alien Crime Syndicate's studio albums. "Do It Again" is off of their debut full-length, Dust To Dirt. The other cut is "Ozzy".

Alien Crime Syndicate may not have gotten the attention they deserved following V2's release of XL From Coast To Coast, and the subsequent release of "Ozzy" as a single. But Break The Record finds the band chugging along, writing fun, semi-silly, semi-serious sing-along nuggets that never fail to put a smile on your face. I'll give this a B.