Cuspidor
The End Men Sing (LELP Recordings)
By: Alex Steininger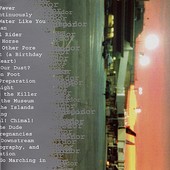 Lucas Bernhardt (aka Cuspidor) is one of Portland, Oregon's hidden treasures. Hailing from a city known for spawning Oscar-nominee Elliott Smith, the city also houses many other great singer-songwriters who, though they may not have the national presence or critical praise of Smith, and who also sound nothing like Smith, still deserve recognition for their lo-fi, acoustic-based, sparse pop songs. Cuspidor is one of the many, and maybe at the top of the heap. His second record for one of Portland's fastest rising indie labels, Lelp Recordings, The End Men Sing, quickly follows last year's The Keys to Quezaltengo with twenty-two tracks of acoustic beauty.

Bernhardt adds to the lo-fi songs with various tinkering, including xylophones, among others, to spruce up his soft songs and help flesh them out. With the average song lasting a little over two minutes, Bernhardt is in and out, singing what he needs to say, and moving on to the next song, ensuring you never grow tired of his lo-fi goodness.

If you're in the market for honest, real songwriters who can lull you to sleep and make you smile, Cuspidor's The End Men Sing is a safe bet, it's pop smarts and lo-fi mindset will instantly warm you up. I'll give it a B+.