Billy Joe Winghead
Precious Moments (R.A.F.R. Records)
By: Alex Steininger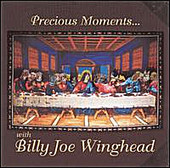 On their second full-length, the Oklahoma-based quartet Billy Joe Winghead deliver a bar rock extravaganza with Precious Moments. It's a crude, reckless record that mixes psychobilly, country, and a lot of drinking into a humorous, no-strings-attached, no frills, all fun record that cuts straight to the chase and speaks its mind. In-your-face and obnoxiously (in a good way) wild, this is what you want to get fucked up to -- a bar band that intoxicates you even if you haven't been drinking, and makes you that much more unstable if you have.

Precious Moments is the soundtrack for boy's night out, a balls-to-the-wall record that abides by nobody's rules, isn't embarrassed by anything, and doesn't care if you don't like them. They're fearless, mean, and rude, and if you've got a problem with that-- well, they just don't care.

Drink. Have fun. Be merry. And blast this record -- loud! Better yet, go see them live, I'm sure they're even that much better. I'll give it a B.