Viva Voce
The Heat Can Melt Your Brain (Minty Fresh)
By: Alex Steininger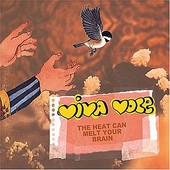 On their latest, The Heat Can Melt Your Brain, their first for Chicago-based indie Minty Fresh, Portland, Oregon husband and wife duo Kevin and Anita Robinson, known here as Viva Voce, create an instant indie rock classic.

The Heat Can Melt Your Brain has everything hipsters love. It exudes coolness, its breezy, gently swaying melodies and spaced-out instrumentation delicately providing the backdrop for Anita and Kevin's reserved, just-dry-enough voices which meld together in a dark, late-night, shaken-awake swirl that both disorients and startles you.

Their voices are the night to the song's otherwise early morning glow, a contradiction that help propel the songs even further with a shyness that is both enduring and intoxicating.

Hipsters will embrace and revel in the songs indie rock goodness.

But, beyond hipsters, who will like it because it is cool (and the music is cool as cool can be), music fans in general, whether they're hip or not, will instantly be blown away by the simplistic, yet layered approach the Robinsons take to creating their pop concoctions.

Taking mid-tempo rock, slow-motion pop, and a psychedelic journey, the songs swim and bathe in everything from stoner rock to indie-pop, helping to ensure the songs, hook-less or hook-laden, never get boring. Just when you think you've come to know exactly what the band is going to do next, they stir things up and throw you a curve ball, jolting your attention back onto the songs as you once again melt into the sonic-ness of the record.

"The Center of the Universe" is a slow burning, layered, semi-epic indie-rock masterpiece, while "Mixtape = Love" sounds icy on the vocal front, but the piano-led backdrop gives the song a warmth that helps play the band's contradiction off well. All while a song like "High Highs" is a bass-heavy stoner rock number that finds the band experimenting with and employing psychedelic grooves to drive the melody home.

There are very few bands that can create something this icy, while at the same time creating something warm. With a reserved, almost-fragile viewpoint, the band seems to hold back, for the betterment of the song. At least vocally. The music balances the cynicism and withdrawn-ness of the vocals, offering up an endearing, home-spun sound that hits you hard with first listen and grows deeper into your psyche with each additional listen. I'll give it an A.