Wolf Eyes
Burned Mind (Sub Pop)
By: Heinrich Odom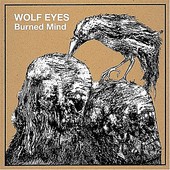 Wolf Eyes is a collective composed of Detroit natives Nate Young, Aaron Dilloway, and John Olson. Their new album, Burned Mind, attacks its listeners from the first track. The group's machine-horror art rock traps phallic rage inside a barrage of post-industrial roars, wheezes, and guttural growls. They generate the music with guitars, horns, and electronic equipment; hearing it, the image of a cyborg rapist wielding a power drill comes to mind. Your womenfolk are not safe around this album.

For those readers keeping an indie-hipster scorecard, the closest reference point for Burned Mind that this reviewer has heard is Liars'They Were Wrong, So We Drowned, released earlier this year - though Wolf Eyes far surpass Liars in terms of their ability to provoke feelings of revulsion and, ultimately, nihilism. A few fleeting moments of They Were Wrong, So We Drowned resemble Liars' hookier, dance-floor friendly They Threw Us in a Trench and Stuck a Monument on Top. Wolf Eyes' album, however, abandons the safe havens of comprehension, Oneness, and orientation towards the Good. The only element of pop song form it retains is repetition; the group fills the resulting void with a long series of metallic creaks and groans.

Longinus once wrote, "Sublimity flashing forth at the right moment scatters everything before it like a thunderbolt." Wolf Eyes' vision of the Sublime is akin not to a thunderbolt, but rather a piston. Instead of scattering the listener's sense of self and replacing human inadequacy with overwhelming transcendence, they annihilate the subject and replace it with the living death embodied in Modernity's existential ideal, the machine.