Beaten Back To Pure
The Burning South (Devil Doll Records)
By: Jeb Branin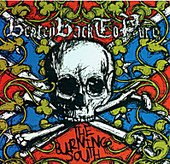 Ouch. BEATEN BACK TO PURE knows how to deliver the goods. As you might guess from the title of the new CD, The Burning South, this band kicks it out with a southern fried sound.

But what stands out the most is the twist they take on that sound. They combine the warts-and-all heavy handed approach of bands like CAVITY and EYEHATEGOD with an ultra-raw hardcore edge along the lines of LACK OF INTEREST (the vox are particularly reminiscent of LOI ).

The Burning South has a wide range of sonic indulgences but regardless of whether the song is sludge-flavored and packed with grit and grime ("One Shovel and a Place to Die") or more punchy with honest-to-MC5 hooks ("Where the Sewer Meets the Sea"), everything is delivered with the subtlety of using a shotgun to get rid of a mouse. It may be over-the-top but you have no doubt that mouse is done for!