Clinic
Winchester Cathedral (Domino Recording Co.)
By: Alex Steininger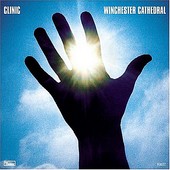 Liverpool's indie-fab-four, Clinic is back. Winchester Cathedral, their third full-length, picks up where Walking With Thee left off, pushing the boundaries on their art-punk sound. And though Clinic may tread and re-tread some of the same ground found within Walking With Thee, the band sounds genuine and lively, tapping into the energy of their past releases, while forging ahead with material that is Clinic in every sense of the word, but different enough to signify a new album.

"Vertical Take Off In Egypt" transcends an experimental noise backdrop with the band's arty, melodic punk sound, creating a wall of melodic noise, while "Falstaff" delves into late-night pop infused with a smoky-jazz feel. But on "August" they really stretch their wings, mixing a Middle Eastern groove with their pop flare. And on "Vertical Take Off In Egypt" there is a deep-seeded love of the sounds of Egypt buried underneath this noisy art-punk meets classic-rock front.

Clinic retains their own identity here, but manage to stretch out artistically, incorporating new sounds that some fans may, at first, balk at, but when put in perspective of the album, will soon grow to enjoy. I'll give it a B+.