The Donnas
American Teenage Rock 'N' Roll Machine (Lookout Records)
By: Alex Steininger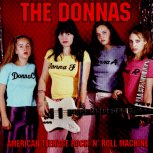 Imagine the Ramones in their teens. Now imagine them as female teens. Thinking hard? Well, you've just came up with The Donnas. The music is punk, the lyrics are all youth, and the party is ten tracks long spanning a little over twenty four minutes.

If anyone thought age mattered, rather than talent and determination, once you listen to this you'll be proven wrong within the first five seconds of "Rock 'N' Roll Machine." Truth be told, the title is a very suitable for these females. I personally love all female bands, and The Donnas are no exception. From that first bit of fuzz from the guitars you'll already be stunned. Then the vocals enter in, as do the drums and bass, and WOW! will you be blown away. I know, I was there. Ringing through the chorus, the lyrics are just as good as the music, "'Cause I don't care about going to school. And I don't care about having friends. And I don't care 'cause I'm a rock 'n' machine." But they aren't just one good song, they follow each song up with another classic cut. "Checkin'' It Out" stays true to the Ramones' idea of quick, catchy chords with straight ahead vocal attacks, as well as honest lyrics. Documenting their love for teenage life, sex and fun, this song is all about having fun checking out members of the opposite sex, and just being a kid. The drums are hard hitting, while the bass is always thick. Add in the guitar workings and you have a punk number that is reminiscent of garage rock, while being very cohesive and strong enough to maintain a name for itself outside the bash-it-out stylings of garage sounds. That's because these girls are way past the garage sound, they're out there making music and having fun, but they always leave room for improvement. "Looking For Blood" documents something almost every teenage experiences, back-stabbing and gossip. With their catchy hooks they are able to pull off their twisted lyrical stylings. Being able to turn a story into both a tough situation that you know someone is going to get hurt, as well as a situation you deeply look forward to, their lyrics (stories) find you deeply emerged in them as if they were a book you just couldn't put down. With a line like "I can hear it all over town, that you've been talking smack. Send a message to your mommy baby, because you ain't coming back," you start to feel sorry for the person who's going to get a beating coming their way, but then again, you sit there and see humor in it and just want to see how their teenage story is going to develop. Also relate-able to the adult world, another ability they possess deep down in their lyrics, the humor is clear, but they never lose touch of the tough spirit behind the lyrics. "Wanna Get Some Stuff" just keeps it coming. The guitar is fast and very fuzzy, the drums are hard hitting and full of cymbals, the bass is thumping along with sheer power, and then the vocals come in and help add the tough girl image to the song that helps pull everything together and bring it to life. Once again they keep the song tough and true to life, but they also slip in enough to allow the listener to just listen and have fun. Closing out with "Shake In The Action," by the end of the disc they have no problem gaining your trust and sending you reeling for some more.

These girls are normal teenage girls. They're horny, they like sex, they live to have fun, and they write about it. If you've ever wondered what a female was thinking, this pretty well documents their wild side. Even though they leave you craving more (just like girls...), here are ten songs that you'll be listening to for awhile. I'll give this album an A+! It's all the fun you can handle in twenty four minutes.