The Donnas
Get Skintight (Lookout Records)
By: Alex Steininger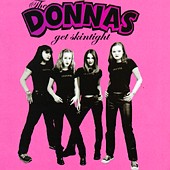 Those four females that turned heads in the industry with their Lookout Records debut (ROCK 'N' ROLL MACHINE) are back with fourteen different blasts of 'Glam meets rock 'n' roll gone punk with a twist of metal and arena rock for good measure'. That's right, The Donnas erase any doubt that they're a "novelty" with GET SKINTIGHT, a powerful, rockin' good time.

"Skintight" is a wild, rambunctious anthem for any girl that has a crush on a guy. Going crazy over a boy with skintight jeans, The Donnas turn desire into a number both guys and girls will be singing along too.

"You Don't Wanna Call" is another rock 'n' roll number with punk energy and arena rock flare jumping in every note. Slow, but still full of action, it hits you like a head-on collision then levels out, feeling like you've just hit your head really hard on something and everything is moving quickly around you, but you're thinking and moving to slow to fully comprehend. The power and energy they can pack into a 'slow' song is amazing.

"Party Action" keeps the rock 'n' rolling coming. Taking you back to the early days of New York punk; well before the Sex Pistols capitalized on the punk theme, New York was the place for rock 'n' roll. Loose, wild, unpredictable, raunchy, and all about sex, drugs, and having a blast, The Donnas take you back to these days, except from a twenty-year-old female perspective.

"Get You Alone" just keeps the rock 'n' roll coming. These girls are wild; they know how to lay it out on the line, tease you, and have a blast doing what they love to do, while making sure you're having fun too.

The only song not written by The Donnas on this album, Motley Crue's "Too Fast For Love" emphasizes the arena-rock/metal influences these girls carry throughout their New York flavored rock 'n' roll punk. A bit more lo-fi than the rest of the album, its arena rock message is clear, and once again finds these girls rocking out and having a blast.

With bands like The Donnas out there, rock 'n' roll will never die. They have the humor, the style, and the wild, partying minds to keep their music injected with sex, drugs, and rock 'n' roll. That's what it is all about, and these girls know it. Rock 'n' roll pure and untouchable; I'll give it an A+.