The Decepticonz
Rot Your Brain (Too Hep Productions)
By: Alex Steininger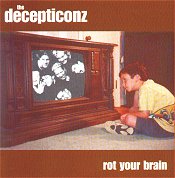 Taking ska into many directions, The Decepticonz blend ska, metal, rock, and pop to come up with their heavy brand of the Jamaican born music style. A 7-piece from the D.C. area, their latest release is seventeen tracks of metal-ska as only they can do it.

The first track on this disc that caught my attention was "Sandra," a metal-ska love ballad to a Spanish lunch lady. Heavy metal influences mixed in with some pop and a really thick upbeat, this slow number has enough humor and wit in it to get you singing along. It's the type of song that at first just don't interest you, but as the words sink in, you really get a good feel for it and crave more of it. The music isn't that good, but the song just 'rots your brain' to the point where you just need more and more. Add some cloudy horn lines, and you have a number that will attack you from every angle and get you listening at all costs.

The rest of the songs just blend together, with their overly-metal edge claiming each victim, I mean song, one after another. But that all changes when "The Hit," track twelve, comes through with a highly danceable, infectious, powerful ska number. The punchy horn lines hit you with a one-two combo, while the fast upbeat hits every sense at the same time, overloading them, and leaving your body numb. With all the other mediocre songs previously taking up your time, and this one coming along and knocking you on your ass, you're not quite sure what to do. Just smile, dance, and have a good time. This number calls for a good time, and if any movement is physically possible, it will get it from you.

Closing out with a great ska track, blending both slow and fast beats, "Simon" ends this disc at a high point. There are a few tracks on this disc that are quite good, and very impressive, but they are drowned out by the mediocrity of the rest of the tracks. Vulgar metal creeps up way too much, raining on any fun the listener was previously experiencing. I'll give this disc a C-. If they could drop the metal, and focus more on their energetic ska style, they could blow the mind.