The Decemberists
Castaways and Cutouts (Hush Records)
By: Alex Steininger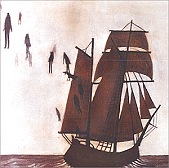 The Decemberists' debut full-length, Castaways and Cutouts, is a fine pop debut. Led by Colin Meloy, a singer-songwriter capable of crafting beautiful melodies alongside strong lyrical images, combining the two for a picturesque treat, whether it's the rollicking rock of "July, July!", the soaring pop of "Odalisque", or the laid-back "Grace Cathedral Hill", which basks in the glow of the organ.

The vaudeville "A Cautionary Song" proves The Decemberists refuse to be pigeonholed, creating loosely labeled pop songs, but never sticking to one formula. They can rock, they can do ballads, or they can have fun.

This is a pop band with the talent and chops to lure you around the corner and always pleasantly surprise you. Castaways and Cutouts goes from the melancholy to the sublime, traveling different waters with exceptional navigational skills. This is a band destined to create a masterpiece, and here is something that comes closer than most will ever. I'll give it an A.