Love Nut
!Baltimucho! (Big Deal Records)
By: Alex Steininger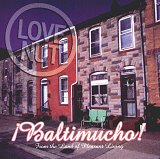 Hailing from Baltimore (or as local slang suggests...BALTIMUCHO), these four guys churn out catchy, melodic, and very tooth-rotting power-pop that will capture your heart and never allow you to look back. Their debut record sold 4,000 copies in five weeks on local Baltimore indie Merkin Records, and then was soon picked up by Interscope Records. But due to the chaos resulting in Interscope leaving Warner Bros. Records, the band soon found themselves without a label. Staying true to their hearts, they kept touring relentlessly around the Northeast and Midwest before landing a deal with New York's Big Deal Records. Now they're back at the game with a hot record to help support.

Starting off with a red hot pop-punk ditty, "Bob Pine," the CD instantly gets your motor going and your body shaking. The drums are rich and meaty, ferociously beating down faster than someone's heart beat on speed, while the bass thunders loudly. The guitar screams throughout the song, helping to keep the vocals in line. A minute and sixteen seconds, it rockets through your ears in no time. Quick pop jabs lurch behind the fury, so if you don't watch it you'll find yourself floored. Following it up with a number more in tact with their power-pop sound, "Love Found You" creeps up and sticks around for some time. The buzz of the guitar in the chorus is thick and has a metal tint to it, while the words come across as a fun shout out where the whole band helped back up the lead vocals to echo the words, "'Love Found You.' Girl, I'm falling through. 'Love Found You.' Girl, you know it's true." Rolling around in your head, these words are soon released through your mouth as you sing along with them. Then there is the sugary pop verses that line the song and sweeten the deal. Bouncy and refreshing, you'll be bopping and jumping around with every beat on the drums, thump of the bass, and sticky guitar riff that is spun out. Near the middle they even mix in some arena rock guitar work, which is amazingly done in good taste and seems to work quite well. With the adrenaline-surged melodies and sugary hooks keeping you in line, Love Nut sure knows how to get an album off to a tremendous start. And it's only the beginning. "Man Or Machine?" starts off with drums booming in your head, overriding most of the sounds made by the guitar and bass, while the vocals warm you up in a very addictive manner. From there they churn out some very steady, hook-filled pop-rock that calls on both American and British pop ethics. The vocals are warm and inviting, helping to tone down the intense drums and the fuzzy guitars, creating a nice medley of both beats that rock and sticky hooks that go straight to your head. "Foolish Game" calms everything down a bit. Still keeping the juicy hooks that prevail throughout, this time they decide to drop the energy level a bit and give the listener a soft number that will make them sit back and think, "Hey, this could be me!" Predictably, this song is about a man, a woman, and their relationship. The song is hypnotizing, drawing over your body and making you tingle inside. It's soft enough to lay back and enjoy, while also maintaining enough hooks and fuzzy guitars to keep you bouncing around. Both delicate and charged, it finds common ground and runs wild with the listener's ears. "Falling Down" starts out with a feature that always draws interest from myself...the guitar was wiping the floor with a catchy rhythm while the vocals were setting the song up. From there on I was hooked. The catchy rhythm was consistent, turning the song into something you never wanted to end, while the content is universal (love theme...) enough for the listener to pick and grab at lines that apply to their lives. Hooks galore, this number thrives even as the disc nears the end. Ending with "Crop Duster," the band keeps you hooked until the very last drive. A great song, but once you've heard this live (with stage antics and everything) you won't want to go back to the recorded version. Quite a memorable song live, at least it was for me. The way the lead vocalist jumped around on stage when entering back into the song from a pause, it stuck with me and every time I hear this song I am remembered of it. The same theory applies to this disc. Once you hear it, you'll want more and more of it.

Love Nut is one of the best pop bands in the U.S. today, and it truly is a shame Interscope never got the chance to unleash them unto the nation. But that's a good thing, because they'll be our little secret until the word gets around. Because when it does, believe me people will be swarming to this disc. I'll give it an A.