Zero Parade
Zero Parade (Acme Entertainment, Inc.)
By: Alex Steininger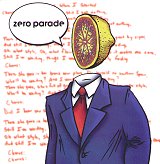 Hailing from Akron, Ohio, Zero Parade's four-piece set up is equipped to pump out heavy guitar hooks and quirky, uplifting melodies that are sure to ensure plenty hours of fun. Formed in 1993, their self-titled album is their first for Acme Entertainment, Inc. and their third all together. Power-pop that is neither too light or too heavy, each song is it's own chapter in a book that ends with the listener unable to put it down and going further into it.

Getting things off to a tremendous start, Zero Parade tackles the confusion that manifests in the early dating years on "Lemonade." Heavily melodic and pumped up with beefy hooks, this song will tease your mind and play with every sense you have until it's done with you, then it will have you so addicted you'll want to go through it over and over again. From there they've got your soul, and they won't let go because they know the ride you're about to embark on will be an enjoyable one for everyone involved.

Never looking back, they keep the warm pop hooks plentiful and full of energy, as they stuff you full of some of the tastiest power-pop licks currently bubbling in the underground (or anywhere for that matter!).

The use of heavy bass on "Reach For The Stars" tickles my fancy almost to the point of exhaustion. As pleasurable as the ice cream man is on a hot summers day, a good bass line stealing the show will always take priority and drive me wild. Mix some stomping percussion work in with some twisty guitar riffs and the song is complete. Not to mention the competent vocals which carry the song into the core of the mind. Breath-taking, to say the least, just when you think you've heard a good hook they combo it up with an even better one.

Take "Destiny" for example. The song starts off as infectious as a cold spreading faster than rumors in an office, and then a burst of energy is thrust into your face, taking the song to a high plateau of crunchy riffs and hammering drums. A topic everyone can deal with, guys especially, this song remembers the perfect girl in your life that you pushed away for one reason or another, only to regret it at a later date. This song gives both the singer and the listener the chance to counsel himself into acceptance, while the listener gets the chance to also indulge in the misfortune and universal mistake that many others have stumbled upon.

Their songs may rely on a lot of personal experiences and universal themes, however, they never let the past cloud up their future. Poking fun at everyone, including themselves, a lot of times they spin around a bad experience and turn it into a smile-filled experience.

Of course, then there are the songs that are born out of pure comedy. Take "Farmer's Daughter" for example. Their take on the stereotypes that come up whenever the topic turns to country folk, they end up dreaming of "messing with the farmer's daughter."

A solid album from head to toe, even during the rusty parts they are able to lift up your spirits and put a smile on your face. Now that's talent. With thirteen tracks on this album, and over forty minutes of music, it's quite impressing when you can listen to the whole thing through and not feel a moment's disappointment. I'll give this CD an A.