Truly
Feeling You Up (Thick Records)
By: Alex Steininger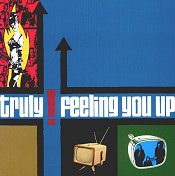 Mixing 70's psychedelic-pop melodies with some 90's sensibility, this three-piece from Seattle is able to draw dreamy visuals through spacey pop and imaginative words. Whether you're listening for the purpose of relaxing, or you want to involve yourself, Truly allows the listener to feel, move, and become one with the music.

Truly also has a love for Brit-pop melodies, which show up on this album a lot, especially as the disc progresses. Beginning very dreamy, the psychedelic-pop feel is widely abundant. As you sit and listen to the disc, your mind will begin translating the words into vivid movies that play only in your head. So real, their vibrant sound is able to activate your imagination and begin to use it to their advantage.

As the album progresses, the images get easier to see. You'll find yourself deeper into the disc, and even more interested in the sonic boom that'll overwhelm your mind. Also noticing the album is beginning to salt itself with a bit more rock 'n' roll here and there, you begin to feel the album's energy level picking up.

Then "EM7" comes on and the rock influences become all too clear. Taking you back to the care-free 70's pop sound, when boppin' your head and having a good time were the primary goals of the music, you begin to get a warm sensation taking over you body. Your legs begin to twitch, and you soon find yourself swaying with the music, with a full-blown bop dance attacking you soon after. Sweet melodies surround you, and all your worries seem to just fly away. You're having a great time, and the music seems to be the reason why.

Keeping with this trend, the album just seems to slide more and more into the 70's pop realm that its creators were raised on. Nodding as much to American pop stars as it does to the British ones, all you care about is the tunes. Allowing you to sit back and slap a smile across your face, Truly does their job all throughout this twelve song disc.

A great 70's pop feel, with a lot of British tendencies, this band knows how to craft pop sounds of the past with a modern bite. A solid pop album. I'll give it a B.