True Love
True Love (Cropduster Records)
By: Alex Steininger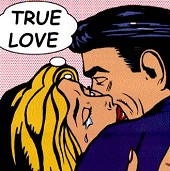 Sugary, ultra-stylish power-pop, True Love craft genuine pop hooks track after track, never failing to reel you in. Even when you think you're going to grow tired of a song, suddenly the chorus hits and you melt, forget that you weren't enjoying the song, and become an instant fan. And, it's their debut album.

That's the power of True Love. They write clever, tune-full rock songs that are so sugary sweet, even when you know you shouldn't get involved, they call at you, and you join in on the fun. What is more, the songs aren't silly, superficial pop songs. They are not one of those bands that write really catchy pop songs, but annoy you with the fact that every time you sing along you feel dumber for taking part.

Their lyrics are sophisticated and charming, covering everything from love to substance abuse in a way that is unique and individual, especially considering topics that have been covered so many times it's hard to give a new perspective on it. But, they manage to do so.

And what is more, the band is a true collective. Each member writes and sings their own songs; they take them to practice, allow the band to add their touch, and then make them True Love songs, which is rare in this day and age of ego, front men, and one songwriter/one vision.

"Why Did You Change Your Mind?" is a bouncy, 80's post punk rocker meets 90's power-pop masterpiece. Strong vocals float throughout the song, while the bright-as-day music shines right in your face and is very hard to ignore.

"Better Living Through Chemistry" is like a concussion. It's slow and heavy, but is so poppy and warm, it comes and hits you so fast, blindsiding you and then speeding up. The music contrasts the lyrics. The subject matter at hand is taking drugs to make your life livable, whereas the music is so warm and friendly, you can't help but think life is coming up roses.

"Wrong" is a pure pop teen anthem for the new millennium: "we knew what we did was wrong/ we were afraid to admit". Clever lyrics, sophisticated pop beats, and a glossy sugar coat, and you can't help but fall in love with the song.

"Baby's Little System" picks things up a bit, adding some crunch rock into the mix, relying more on loud guitars and hammering beats than melodic hooks, though they're there. "(Get Your) Ass (In Gear)" is the album's definitely rock-stomper, the perfect Southern rocker from a bunch of pop fanatics. And then there is "Dirty Dog," a fast-paced punk number sure to get your adrenaline and blood pumping.

You can't help but find True Love with True Love. They're amazing musicians, have pop sensibilities out of this world, and can all sing and write songs to boot. A truly versatile group of musicians who should, by all means, be on of the hottest, most talked about indie bands out there. Let's wait and see... I'll give this an A+.