Ten Foot Pole
Insider (Epitaph Records)
By: Alex Steininger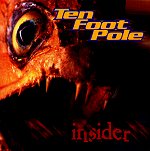 California-based Ten Foot Pole is back with another batch of catchy pop-punk tunes. Speedy and heart-pounding, they always leave room to slip a nice dose of pop into every song. With a new bass player (Glen Vegas), and Ryan Greene (infamous pop-punk producer) behind the boards, they're once again ready to tour the U.S. and blast out infectious pop-punk music that is sure to make you a fan.

Beginning with "The Getaway," you're instantly hooked. The song has the balls, might, and appeal to cast an over shadow you and keep you listening. Dennis' vocals are sweet and melodic, clearly understandable, while his rhythm guitar helps keep the basic structure in line. With the addition of a lead guitar, they're able to take the song to the next level, ripping through chord after chord of tasty punk rock. Watching their backs, and turning the song into a strong piece of work, the hearty beats of the rhythm section are relentless in their approach. Together, the disc begins on a high point and keeps going up.

A modern-day love song claiming "I'm sorry, but take me for who I am," "This is but a Test" is the all-to-real story of a boyfriend who "didn't notice you cut your hair," but tries hard and shows his love in other ways. Slamming through punk waters during the verses, they slip a nice pop hook in your face foreshadowing the chorus. From there the chorus dances and bops around in your head, nestling right next to your memory cells. After that, you'll catch yourself singing along even when the song isn't present.

"I Got Your Letter" is yet another blast of pop-punk energy sure to sweeten your tongue and numb your taste buds. The drums endless approach of melodic fury keeps the beats stable and bold, while the bass bashes away with some powerful licks sure to knock anyone who isn't careful on their asses. Cutting through air with their axes, the guitar riffs are thick and swift, churning around the song with a few simple chords. Packing a punch like no other, the song bites and spits at you until you're hooked.

Of course, then there is "Officer I Swear She's 19." You don't know if they're joking or serious about their views on the topic at hand. But, then again, you don't really care. The hooks and poppy beats are plenty, so you'll be singing along without a care in the world. The chorus rings through your like an unforgettable commercial jingle -- hard to forget and even harder not to sing.

Finally, ending with "Seven" they close out the disc with more power chords, hammering beats, and melodic bursts of punk rock. Here they manage to even add a little heavy metal flavor in the picture to keep everything from going stale.

One of the strongest bands on the Epitaph roster, Ten Foot Pole keeps putting out good, clean pop-punk that is enjoyable and meaningful. This isn't your watered down, pop-punk produced for the masses. They write lyrics that are personal enough to have emotions and universal enough for the listener to feel. I'll give this disc an A-.