Dropkick Murphys
The Gang's All Here (Hellcat Records)
By: Alex Steininger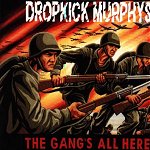 Boston's '77 style punk rock outfit Dropkick Murphys are what punk music is all about. This is the real deal here folks, no gimmicks or tricks up their sleeves. Just four common souls playing music that they love, spreading the message of unity and brotherhood through every action-packed, pro-blue collar song.

You know, I was a huge fan of their full-length debut, DO OR DIE (Hellcat Records). But, with the departure of Mike McColgan, their former lead singer, and the man that helped give the band such a distinct sound, I wasn't sure what to expect. Would I like the band? Would they even be the same band with their new vocalist, Al Barr? Well, THE GANG'S ALL HERE answers those questions quickly.

Although it took me a few listens to warm up to Al Barr as Mike's replacement, I soon came to the conclusion that this is the same band that cranks out fierce punk numbers about unions, the blue collar ethics of America, and fight songs for the common man. So, once the music sunk in all doubts were erased and I was right there enjoying every note.

"Ten Years of Service" showcases the band's potent, real life lyrics and strong convictions towards the old saying "hard work pays off." With a chorus that rings in and out of your head, the band is able to get you on their side and shouting "Whose gonna save us from this lonely picket line? Ten years of service, but I'm still not worth your time." As the song jumps around in your head, you feel empowered with a united spirit that keeps telling you that you can do anything you put your mind to, just don't let the corporate world piss on you and keep you down. And, this message and feeling is continued throughout.

With a punk-ballad intro, "Curse of A Fallen Soul" begins with a soft mourning sing-along of a friend who died before his time. The only backing instrument is a faint piano, which wraps around your heart and makes you feel every note. Then, the band kicks into high gear punk rock that bounces and moves around with the best street/'77 punk out there, while the mesmerizing sounds of the rhythm section and searing guitars cruise along with an in-your-face spirit.

On "Going Strong," the band does just that. With their politically-fueled venom aimed towards corporate America and everyone that doesn't care about the working men and women who toil and make this land what it is, the band rips through chord after chord of heart-pounding, body slamming mayhem that packs a bold sound, as well as statement, every where you look.

But, what would a Dropkick Murphys album be like without their trademark fusion of bagpipes and Irish pride in their punk cocktail? Well, it would be a disappointment, to say the least. That is why "Amazing Grace" delivers the goods with a chilling vibe attached. The song begins with a sad tone. And, as you sit there and start to soak up the environment and think of all the people who have died for no reason, all the poverty in this world, and all the other political issues that plague the human race, you are soon rewarded with an optimistic message: the punk rock blossoms and the song becomes a fight song for anyone who's ever needed one. Through this instrumental cover (well, they do sing the traditional lyrics, but you can't hear them unless you REALLY pay attention...) they say more in music than they could have in words. The message "You can do it, let's unite and fight" crawls out from every note played, and you are soon lifted off your feet with a cheery message that embraces you rather than kicking dirt at your face.

Ending with the title track, the band closes out with more punk rock for the everyday Joe. Sweet melodies with a brute force, you can't deny the potent message and strength this band packs with them from start to finish.

Well, this album still hasn't beaten out DO OR DIE, but it comes darn close. On it's own though, it stands strong and is sure to be one of the top three punk releases of 1999. I'll give it an A.