Dropkick Murphys
The Singles Collection (Hellcat Records)
By: Alex Steininger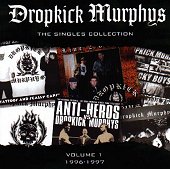 I've been sitting here listening to pop-punk album after album, getting bored right out of my skull. So when I put on the Dropkick Murphys' The Singles Collection to review it (listening to it several times before, of course), I remembered why I enjoy this album so much. Punchy punk with just the right amount of Irish cheer, Dropkick Murphys deliver the goods throughout this twenty-four track collection of live material (where they cover The Clash twice!) and out of print 7" tracks.

If you crave street-punk with the perfect blend of lyrics, spirit, and muscle, here is your weapon of choice. Kick ass punk you can't go wrong with. Ah, I'd even go far as to sound punk hasn't sounded this good in a few years. I'll give it an A-.