The Dropscience
Dies Tonight (Happy Couples Never Last Records)
By: Alex Steininger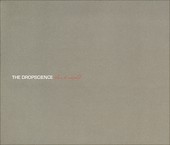 Opening with a sample of Gonzo journalist Hunter S. Thompson, with a buzzing, spacey backdrop to shake up Thompson's words, San Diego's The Dropscience don't pull back the punches on their sophomore release, Dies Tonight.

Playing quirky post-punk hardcore indie rock that lacks melody or a central focus, The Dropscience sometimes (though not always) make it work, taking a stance against conformity and doing their own thing, Marching to the beat of their own drummer and enjoying every minute of it.

What you get when you listen to Dies Tonight are abrasive, give-it-all-you-have-to-give bursts of rock, shattering rhythms, and plenty of guitars with a vocalist who may not have the easiest going voice in rock, but makes up for it in passion. And though the songs are hard to follow for the longest time, the more you listen when you're in the mood for it, the more you learn to let it grow on you. I'll give it a B-.