The Temptations
Phoenix Rising (Motown Records)
By: Sylvia White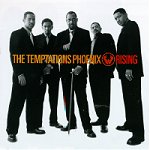 The icons of R&B, the Temptations have returned to contemporary listening ground with a collection of sure fire tunes guaranteed to capture your heart. Along with the new talent there still remains the last original member, legendary Otis Williams. With this new project there comes a stream of sensual and endearing tunes. From cover to cover this album is hitting the ground running and taking the new Temptations into a new Millennium of sound.

Though there are new band members, the rich sounds that the original Temptations have been known for, has not been lost. They've gone from classic soul music to simply a mature and updated repertoire.

This thirteen track collection has received rave reviews from R&B listeners. Most have stated that the Tempts have not lost their touch. On "Stay" we hear a mid-tempo track that starts off sounding like the classic "My Girl". It goes into a soulful and enticing string set with a slick baseline. On the softer ballads such as "How Could He Hurt You" and "This Is My Promise To You" the Tempts take sensual lyrics and strong harmonies to a new level of expertise. Not only do they soothe, they also tantalize your ear with melodious possibilities.

"My Love", an up-tempo track with a gritty beat pattern and great harmonies is reminiscent of classic Temptations material. Very well done! "Tempt Me" another on their list of soft and seductive tracks is a plush tune with wonderful harmonies and great understated lyrics. Tempts at their best! "If I Give You My Heart" is another wonderful ballad. "Just Like I Told You" is a favorite of mine. The string set and instrumentation is so smooth and the vocals are like butter!

This album as a whole gets a boisterous 5! I love this album because it celebrates what classic soul has always been about, great music! The new generation of Temptations have done well with this contributions. As well, I am glad to see the respect finally coming to one of the premiere groups of our lifetime. What they did for R&B music is break new ground and with "Phoenix Rising" they are continuing in that tradition. On the final track which is a remix of the original "Stay" they mesh a bit of hip hop and soul together to get one of the better remixes I've heard in a while.

Grab your copies today listeners, as well, try to get a copy of the televised movie on the lives of the original Temptation members. The mini-series is an awakening to real music history for those unfamiliar with R&B roots.