Scorn
(Anamnesis): 1994-97 (Invisible/Possible Records)
By: Alex Steininger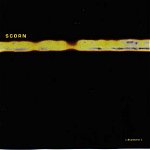 With the rediscovery of the Peal Sessions, MJ Harris decided to remaster the material and present it to the fans. But he wanted to release a complete album, so he dug up previously unreleased, or limited edition tracks, to include in his presentation of the band during their most influential period -- 1994-1997.

Surrounded by the ambient dub sound that made Scorn who they were, this disc, from first listen, will put you in a hypnotic trance and take you into a mental state unobtainable without. The songs are not aggressive, but rather feed off of their own energy, as well as the thoughts in your mind, to come up with a deliverance that will shock and sting you, while also putting you under their control.

Peel Sessions tracks like "Almost Human" and "Maker of Angels" crunch through the air with a bite so fierce you can hardly bare it. But it is the hypnotic nature that makes you ignore the bone-tingling burn and just keep listening. Then there are other tracks like "Geeked (Original)," "Wallpaper Dub," and "State of That" which concentrate on hypnotic advances and tear through your mind with a subtle touch, not to mention a numbing beat to it.

With over sixty-eight minutes of music to keep you company, this disc will surely become one of your favorites. The deep beats and subdued feeling of the disc will tear you apart without even using force, and you'll seem to enjoy it. I'll give this album an A-.