The Scoldees
My Pathetic Life (Off Hour Rockers)
By: Alex Steininger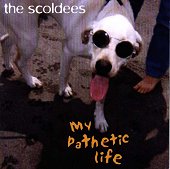 The lyrics aren't that spectacular (mediocre at best), the pop falls flat on its face, and the music is lacking any energy whatsoever. MY PATHETIC LIFE is a struggling album that tries to be pop, but can't do it well enough to pull it off, and then tries to make up for it with an eclectic mix of top 40 rock, island vibes, and even some jazz thrown in. But, when all is said and done, no matter what influences or styles they throw at you, their attempts just don't come close to par.

Beatnik pop-rock, yes, but even its main audience, those who probably frequent poetry readings and are so into their coffee, won't dig this album. It's just devoid of any real blast of energy to really make you want to move. I'll give it a D.