Quirk
Machina Electrica & Fornax Chemica (Matsuri Productions)
By: Alex Steininger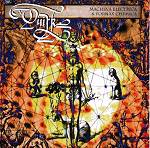 Based in London, DJ/Producers Mark Allen and Tim Healy have had electronica fans in awe with their experimental sounds; they've released several EP's and 12 Inches over the last three years. Now, on their debut CD, the band takes what they know best--electronica--and puts their spin on it.

Throughout this disc the band lays down several different grooves, each one uniquely their own, and quite easily to dance too. Though the songs sometimes wear out with lengths exceeding seven and eight minutes, Quirk manages to shake things up a bit, without making it sound like a new song (until it really is a new song).

The high point of this disc is definitely its easiness to dance too and the sharp grooves it carves throughout. Its downfall may be the lengthy songs, but with some maneuvering and persistence, the band does do a good job of avoiding this. I'll give the album a C+.