River City Rapists
Love Hurts (Junk Records)
By: Alex Steininger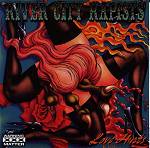 Featuring members of the Didjits and Motards, River City Rapists kick out porno-punk with intensity. They're slime, their horny, and their ready to rock your world, literally. Lock up your daughters, because this is the type of punk band you don't want them exposed too, yet their sound is so intense, you can't resist their come-ons.

With a band name like River City Rapists, does it surprise you any that their opening number is entitled "Go Down On Me"? Well, if it does, it shouldn't. The song itself is sleazy and fast, like walking into a strip joint and sitting next to the guy with the money to entice all the girls to come near him, but outside the sex shop he can't get any.

"I Never Sleep" keeps the punk a flowin'. Growling vocals lead the way over fast, sharp guitar riffs, slippery bass, and a wicked drum beat. The song is intense, and is even upped a notch when the chorus hits. "Hatred Is A Way Of Life" is the same way; fast and furious, full of punches and kicks to the groan if you're not careful, and super-slick punk mayhem.

"Let There Be Rock," an AC/DC cover closes out the album in true fashion. Speeding up the song and turning it into a puck classic, River City Rapists prove they're the kings of sleazy-punk.

The band has a gimmick, sure, but they've got the music to back it up. They songs are well written, powerful, and steamy. After you listen to them you'll either want to listen to them again or go get laid. I'll give this album an A-.