Indigo Swing
Red Light! (Time Bomb Recordings)
By: Alex Steininger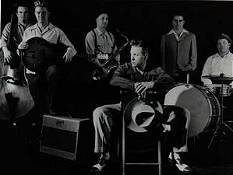 The finest band in the swing revival, San Francisco's Indigo Swing are back with another album of fourteen finely crafted, jazzy, boogie-woogie swing numbers that prove track after track they're still the best in their genre. Splashing in some 50's rock 'n' roll for good measure (and having fun doing so), their second for Time Bomb Recordings should find the band's reputation and fan base growing larger and larger (as if it weren't already), because these boys can create swing for the new millennium without offending the greats they draw their influences from -- matter of fact, their influences would be proud of an album this strong (and probably want to call it their own).

Opening up with the title track, the band gets things rolling with some swingin' rock 'n' roll that would turn 50's rock radio upside down. Johnny Boyd's vocals are perfect; they've got the soul, style, and class of swing, and some rock charm to go with them. William Beatty's piano chimes in the background, running around uncontrollably, putting the steps in the song you need to dance around with. Not to mention Josh Workman's guitar skills, which melt into the background during parts of the song, and come flying out during others.

"Pop's at the Hop" is a fast-paced swing number sure to send you out on the dance floor in a hurry, eager to let loose and have a blast. "Big Jim" Overton's rock beats on the drums drive the song, while Beatty's piano once again shines with a happy bounce that warms you up from top to bottom. Did I mention the infectious chorus that is all pop, drawing you in and not only giving you plenty to dance with, but also allowing you to sing along (try not too!)? Well, it's all there and will drive you wild; don't resist, because you can't.

"Another Day In L.A." slows things down a bit and gives us a taste of the classic Indigo Swing style -- silky smooth, swingin', and plenty of energy pumping through every note. The song is about loving the lifestyle that L.A. seems to promise (glamour, riches, and stardom), but when the enchanting music takes its toll, you'll want to grab your loved one, get close, and show everyone what you're made off on the dance floor.

"Big Hair Mama" is a jazzy swing number that will find you close to your loved one, again. The song is beautiful; the acoustic piano vibrates through the song with such honesty and intensity (especially in the day of electronic keyboards and organs), which helps push the organic feeling of their music even further. The hot licks courtesy of the guitar steam up the song, while Johnny's voice always keeps it easy-going and soft. With each member skilled on their instruments, and in love with the music they're playing, they never fail to bring forth solid tunes that will have you fully engaged from start to finish.

"Stayin' Up Late With Sonny" features a duet between Johnny Boyd and William Beatty, not to mention Baron Shul (the band's saxophonist) on flute. Wrapping nicely around Johnny and William's duet, the song is soft and smooth, while still packing a punch to give you an extra jump or two in your dance moves. And with "Guiliaume's Pepper Step," the band closes out with a mid-tempo swing number to allow their audience time to get close and dance at their own pace.

Indigo Swing is all about taking the love and intimacy of dancing and putting it into music. And on RED LIGHT! they've accomplished this goal while also packing thrills, giving the listener not only love in a musical form, but fun as well. You just can't lose with Indigo Swing; I'll give this album an A+.