Take Action!
A Punk Rock Sampler Benefiting The Foundation Fighting Blindness (Sub City)
By: Alex Steininger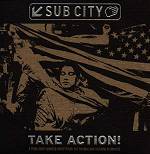 Sub City, a subsidiary of Hopeless Records, is a record label giving back to the community. Five percent of the retail price on all CD's sold will be donated to a charity of the label and artists' choice. Helping get the message out to the public about the label and what they're about is TAKE ACTION, a label sampler that also doubles as a benefit album for The Foundation Fighting Blindness.

Taking part in this label sampler and benefit album are punk bands from all walks of life. You've got the political pop-punk of Fifteen ("Liberation II" and "Evolve"), the acoustic folk with punk vocals of Falling Sickness' "Sleep It Off," the pop-punk of The Rabies ("Staring At Your"), and the ska-punk of Against All Authority. So, as far as punk goes, the gamut is covered here.

The Rabies' catchy, comical "Staring At Your" ("You know I'm staring at your/ You know I'm staring at your/ You know I'm staring at your personality") is a blast of pop-punk fury that is as bouncy and fun as it is aggressive. You'll be jumping off walls while you're laughing hysterically.

Scared of Chaka, who just released a new full-length on Sub City [see review this issue], contributes two songs to this compilation. "Straight To The Office" is some melodic garage fury with strong Ramones tendencies while "Into Them," although similar in style, is a fat slab of screaming guitars running a marathon as fast as they can so they'll burn out before the race is over.

The soft, dreamy feel of The Weakerthans' "Everything Must Go" is abruptly broken by the Dillinger Four's hard-edged punk on "Inquiring Minds." The songs are back to back, and as you're calmed down by the first, the second one comes on and shakes you up until you're excitedly moving around in circles.

As far as label samplers go, you get lucky with Sub City because they do have such a strong line-up. Although, as with the majority of label samplers, you get stuck with some sub par material surrounded by some decent and great stuff. It's the same thing here, you just can't escape it. But, if you're into helping charity and good punk music, this is your disc to introduce you to some bands you may or may not have heard of. I'll give it a C+.