VARIOUS ARTISTS: Straight Outta Burbank
The Bomp! 25th Anniversary Collection (Bomp/Alive-Total Energy Records)
By: Alex Steininger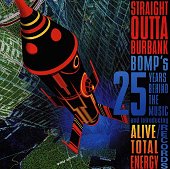 Celebrating their 25th Anniversary, and a formal introduction to their affiliate label, Alive!/Total Energy, Bomp! Records has released a two-disc set of past and present gems from their vaults and catalog. From the label that helped the punk movement in the 70's comes contributions from Zeros, Dead Boys, Iggy & The Stooges, Weirdos, Flesheaters, and the Lazy Cowgirls. And that's just disc one. Disc two offers up tracks from Davie Allan & The Arrows, The Streetwalkin' Cheetahs w/ Deniz Tek, U.S. Bombs, and MC5.

With a cream of the crop line-up, there is no question as to the validity of this compilation. The Zeros shake things up with "Right Now!" while The Dead Boys kick some ass on "3rd Generation Nation." Changing paces a bit with "Servo," the Brian Jonestown Massacre get you singing with their brand of infectious pop that relies as much on the 60's British invasion as it does the rat-tat-tat of rock 'n' roll. But, disc one is all about making your blood boil with intense rock, as Iggy & The Stooges prove on "Gimme Some Skin", The Weirdos demonstrate on "Destroy All Music," the Germs exemplify on "Suicide Machine," and the Lazy Cowgirls prove over and over again on "Heartache."

Disc two, though not as powerful and intense as disc one, introduces the Alive!/Total Energy portion of this set. Weighed down with modern acts (compared to Bomp's collection of 70's and 80's gems), it still offers up some powerful rock 'n' roll that should not be passed on. Davie Allan & The Arrows serve up some instrumental, powerhouse rock on "Open Throttle," The Streetwalkin' Cheetahs w/ Deniz Tek rip shit up on "Do The Pop," and, as always, the U.S. Bombs pack as much energy as you can in a punk rock nugget on their contribution of "Monsters." John Sinclair gets quirky on "Monk In Orbit," while the classic MC5 make the album peak on "Looking At You," a distorted soul-punk trip you won't likely forget.

Bomp, and any label it affiliates with, will always be about good rock 'n' roll and quirky rock offshoots. To back this claim up they've got a twenty-five year track record. So, it came as no surprise that this hot collection of rock 'n' roll is just what you'd expect from Bomp!: good. I'll give it a B.