Fernando
Old Man Motel (Cravedog Records)
By: Alex Steininger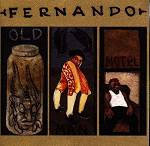 Fernando, a diverse rock band from Portland, Oregon, is both the lead singer/guitarist (Fernando Viciconte) and the band name. Fernando's style is rock 'n' roll to the core, though he often expands past that to come up with a very eclectic sound. He spins through R&B, folk, and Spanish influences, but always comes back to his main love, rock 'n' roll. In 1996 they released WIDOWS, a folk-country-rock album that was, for the most part, laid back and settled. The lo-fi, eight track recording quality was evident, and helped add to the spacious, wide-open sound. Fernando Viciconte followed that up with a "rock en espanol" record that was later promoted with his other band, Fernando y Los Cochinos. The album, PACOIMA, named after the city in which Fernando grew up (in California), is a gritty, rock 'n' roll album with the gust and sincerity of the oldies in which they received inspiration. They even cover another rocker from Pacoima, Richie Valens, on "Ooh, My head." Now, Fernando's back with their latest, OLD MAN MOTEL, a big rock 'n' roll album that has Fernando rocking out more then ever, while still staying true to his ability to jump around and fuse different influences into a tight package.

Opening with the gritty "Ride," Fernando and company don't waste any time in rocking out. Fernando's voice is full and confident, the guitars loud and electric, yet they don't over power, and the rhythm section is ballsy and concrete.

Next up is the soon-to-be classic, "Same Ol' King." It starts off with a bouncy piano beat and continues with a 60's pop feel. Compared to the gritty rock of the opener, this one is a sweet, happy-go-lucky number that will let you forget about your problems and just jump around in glee with a smile on your face. The lyrics may not be happy-go-lucky, but the song is so perfect, unless you're really into lyrics, you don't even pay attention to them (not to say they don't play a big part in the song, because Fernando's voice does). Paul Brainerd's pedal steel helps add a country feel to the song, but it is so poppy, it ends up just adding a sensitive breeze when it is present.

"S. California" shows Fernando in another gentle mood. The pop-folk of the song slowly passes as Fernando's voice recalls upon his old homestead, reminiscing on yesteryear. Beautifully delicate, it has a big "looking back" quality to it, from the lyrics to the music, which makes you sit down and start to reminisce yourself. One of the best songs on the disc, Fernando shows he is a capable songwriter who can rock out or go soft with ease.

The folk-rock of "Deviant" once again finds the band playing a solid song full of emotions and heart. Fernando's lyrics and voice lead the way as he offers the listener the whole package. The lighter percussion and breezy organ intertwine with the laid-back rhythm section, all while Fernando peacefully places his guitar. His voice seems so soothing over the gentleness of the song. You can't help but feel warm as this song strolls by your ears.

The title track finds the band back in their rock state of mind. With an oldies feel, they hammer through some catchy pop-rock that isn't as wild as the opener, but is just as steamy. The band has no problem keeping the beat meaty and plentiful while also making sure the melodic hooks are still in-your-face and there for you to enjoy.

Then there is "Rainin Outside," a country-rocker that once again finds the band treading new territory while keeping everything similar in structure and heart. Fernando's voice plays well with the country vibe; he seems to be having a blast, as does the band, and that mood really comes across well with the listener.

And with "In the End," Fernando ends the album on a quiet note. The faint, acoustic number finds the acoustic guitar blending into the background as Fernando's voice, which itself is laid-back and soft, takes center stage and has you hanging on his every word.

One of Portland's strongest songwriters, after one listen to OLD MAN MOTEL, there is no question as to why such industry heavies as Interscope Records are trying to court this band. Their vibe is simple: easygoing and from the heart. Whether they're rocking out or toning it down, this band has you enjoying every moment. I'll give this album an A+.