Fenix TX
Fenix TX (MCA Records)
By: Alex Steininger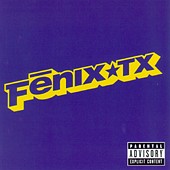 Formerly Riverfenix, Fenix TX changed their name to avoid lawsuits from the late River Fenix's estate. Now, with the popularity of pop-punk mega-stars Blink 182, Fenix TX find themselves riding the pop-punk popularity with a sound not that far from Blink 182. Of course, the Blink 182 comparisons are inevitable, being managed by Blink 182's Mark Hoppus and all, as well as being signed to the same label as Blink 182 -- MCA Records.

With the single "Speechless" in full rotation on the powerful L.A. station KROQ, MCA Records signed Fenix TX and decided to re-mix and re-release the band's debut release as well as add two new songs, "Flight 601 (All I've Got Is Time" and "Surf Song." The outcome is their debut, self-titled album.

A lot of the youthful pop-punk bands these days all sound the same. Heck, a lot of the pop-punk bands these days sound the same. And, though the same childish humor, horny boys, and partying themes so easily formulated to sell records can be found throughout this disc, for some reason, Fenix TX do it in a way that may not be the most original, but is very catchy. Take "Minimum Wage," for instance. A political track amongst songs about wanting to take a girls virginity and big cocks, the band steps up to the plate and speaks out against the minimum wage plague that is all too common for the youth of America, as well as many other individuals.

Then, on "G.B.O.H." the band takes a stab at both humor and seriousness. A song about two individuals who just can't seem to make it together with the girl's abusive father in the way. "Remember the time he caught us in your room?/ Your hands were down my underwear and your tig ol' bitties glistening in the air with the zip of my pants/ Well I headed for the door/ And with the swing of his fist you were laid out on the floor," finds the band playing around and making their horny-ness clear while also trying to speak out against something serious.

Other tracks like "Speechless," "Philosophy," "Apple Pie Cowboy Toothpaste," and "Jean Claude Trans Am" continue down the path of horny humor, youthfulness, and just having a blast in life. The thing is, despite any stereotypes they play into, the music is so infectiously catchy and blissfully poppy, you can't help but jump, bounce, and sing along. Plus, it's pretty damn funny stuff, which makes it even that much more entertaining.

The closing track, "Rooster Song," is a hilarious, sexually explicit song about having a "big cock." You don't get wilder than writing a song about "big cocks," and these Fenix TX have managed to put the fun back into pop-punk. I'll give this album an A-.