Dama
2000 A.D. (Eterniti Records)
By: Alex Steininger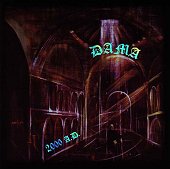 Heavy, groove-filled, and sometimes a bit funky, Southern California's Dama put the metal back in rock and charge down the all-so-familiar hip-hop/hardcore/metal path. With any trend comes a boatload of bands and hip-hop goes metal is no except. Dama enter the congested road to hip-hop/metal stardom with a sound that has its moments, but overall just doesn't cut it.

These guys can write one hell of a groove. I mean, the way the bass and drums interact together is perfection. Tight and muscular, mixed with the vocal spin, the rhythm section unleashes a groove sure to make you move. But when they slide into the heavy, loud, and aggressive style that makes up the majority of the sound, then they begin to lose their grasp and fall to the ground.

Dama's got some good stuff, but the majority of the disc is spent swimming around in the common-ness of the metal/hip-hop fusion that the band likes to flounder in. Their sound is nothing unique and surrenders itself to the tidal waves of the trend. I'll give it a D.