Royal Crown Revue
Walk On Fire (RCR Records/Side 1 Dummy)
By: Alex Steininger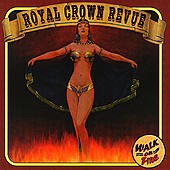 Credited with starting the neo-swing revival, while others are still trying to exploit the nearly faded hype, Royal Crown Revue has once again moved on. Exploring American history through swing, they also reach deep into America's culture and re-invent themselves through bebop, R&B, calypso, jazz, and bossa nova influences. WALK ON FIRE is the band's most diverse album too date; the move to an indie (after opting out of their Warner Bros. contract to regain creative control) helped rid them of any expectations, as they throw caution to the wind and make music for themselves.

"She Walks On Fire" opens the album with some Latin groove. Not only that, but it also shows the growth in lead singer Eddie Nichols' vocal range; on previous albums he's stuck with the Bronx gangster tongue, but this time around he's decided to smooth things out with a cocktail jazz voice that is as warm and inviting as ever.

"Trapped (In the Web of Love)" is what made the band notorious in the first place: good quality swing music that is rich in history, but never trapped in nostalgic thoughts. It's modern gloss is propelled by a fire as intense as they come, while it still pays homage to the masters who helped pave the way for a revival to occur.

Then there is the sting of "Besame Mija (Baille Para Qui)." Some more Latin grooves help propel the band past your typical neo-swing act. But even on a song like "Hey Sonny (Where'd You Go?)," a straight forward swinger, the band's pure knowledge and ability to take something old, turn it in to something new, and spice things up, helps keep them away from the dreaded land so that so many neo-swing acts have found themselves -- a land of mediocrity.

The cocktail/jazz/swing of "Mr. Meschugge" helps end the album with some flair. Silky smooth and always able to make any cocktail party work, Royal Crown Revue are the working class thugs that pushed their into the fancy ball through precisely crafted, trend-avoiding swing music that is so much more. I'll give this album an A-.