The Dragons
R*L*F (Junk Records)
By: Alex Steininger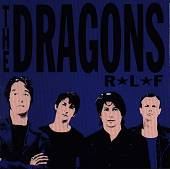 Though they're punk in every way shape and form, The Dragons are not simply just a punk band. They're rock 'n' roll. They encompass the word fun and bring new definition to the word with their latest, "R*L*F". Ten tracks of ass-kicking mayhem, the band knows how to write loud, careless rock music that isn't afraid to offend or piss off anyone.

"Insatiable," "Sleep When I'm Dead," "Take It" are prime examples of what this band is about. Ardent guitars fly over concrete-solid rhythms that are equal part speed and mayhem, while the vocals are wild and action-packed. "My Confession," "Hard," and especially "Gimme Some Luv" all prove that this band is a band to reckon with when it comes to fast times, wild rides, and non-stop rock from dusk to dawn.

Pick any of the ten tracks on this disc and if you're not blown away or compelled to want to party, then there is something wrong with you. They may not be technical or diverse and eclectic, but they know what they can do, and just don't stop until you're out of breath. I'll give this album a B+.