The Dragons
Live at the Casbah (Junk Records)
By: Alex Steininger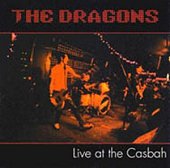 Recorded live on the band's home turf, The Casbah in San Diego, The Dragons deliver a nineteen track album of adrenaline-pumping, ass-kicking rock 'n' roll. Fueled by sweat, alcohol, and the crowd, Live at the Casbah is a sure fire cure for any rock 'n' roll drought.

"Roll the Dice," "High," "Loaded," and "My Confession" represent everything this album is about: snarling punk rock vocals, wickedly fierce guitars, hammering drums, and a thick, jarring bass that grabs a hold of you and just doesn't stop shaking. The intense guitars back up the quick, fiery vocals, while the rhythm section adds the bump and thump needed to make the songs jive. Pure rock 'n' roll blood squirts out of every note as you catch the fever too and just can't help but shake your ass and get fucking drunk to the devilishly charming numbers.

"Fade" offers up more of the intense rock 'n' roll, while recalling softer, melodic times to lure you in before spitting you back out. "Bad Reputation" is a wild, explosive, hook-laden rocker that hits you with a bouncy rhythm section before rolling over you with intense beats. And "Let It Rock" does just that; it delivers a blues-inspired, stomping rocker that recalls the early days of The Stones.

Woah! This is one smoking live show. A party from the get go, The Dragons teach you how to rock as if it were your last day on this planet. Pour yourself some hard liquor, crank up the volume, and let the rock control you, 'cause The Dragons are ready and willing. I'll give it an A-.