Josette's Eye
Alibi Clock (Self-Released)
By: Alex Steininger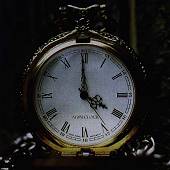 Based around Bejay Thompson's voice and Paul Mauer's guitar, Olympia, Washington's Josette's Eye take an ambient approach to rock 'n' roll with their dark, shadowy sound that is sometimes progressive and sometimes drawn out, but always mystical.

The music often resembles that of Seattle's Sky Cries Mary with a more rock 'n' roll feel to it. Often too dark for me, the shadowy vocals and foggy sound of the band just didn't cut it for me. Sure, front female Bejay Thompson has a sweet voice that could work better without the dark bite to the music, but in this type of atmosphere, it seemed to get over shadowed by the music and left in the dark.

The musicianship is strong and shows promise, but the songs are too distant to really grab a hold of you and allow you to really get into the music. I'll give it a C-.