Mephiskapheles
Might-Ay White-Ay (Velvel/Koch Records)
By: Alex Steininger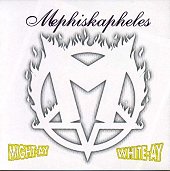 Ska's own Satan worshipping, hardcore and metal influenced act the Mephiskapheles are back at it again with another album sure to get you skanking to Satan. Though, the album jumps around from their Slayer and Metallica influences to their Fishbone and Specials flavors, it is still one joy ride worth taking.

"Calloused Boy" is a head-on explosion of metal and hardcore. It's not even close to ska, but does show you the influences that are boiling under ever song. Not my favorite, but for some reason seemed appropriate to kick off the album. But when "El Dorado" hits, so does the dancing. And from there, you just can't stop them. "Swampskin" sends you into a hyper skank; or, you could send your body flying and start moshing. This is why Meph has amassed the fan base they have. They blur the lines between their influences, not only in the same song, but quite often at the same time. So, you never know if you're supposed to skank or to jump around. All you know is that you're supposed to have fun.

Other tracks like "Devil's Due," a highly infectious, pop-ska ditty, "King Tit," another hyper, sugar-buzzed ska tune, and "Force of Nature," a jazzy-ska cut, all possess the same charm and wicked-ness that have made Meph a favorite in the past. If anything, I think this is their best effort to date. It's remarkably poppy, still has the metal edge, and never loses its love for Satan. Smile, Meph owns your soul (and probably gave it to the devil). I'll give this a B+.