Black Box Recorder
England Made Me (Jetset Records)
By: Alex Steininger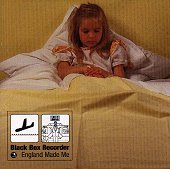 England's Black Box Recorder is composed of Luke Haines and John Moore, the multi-instrumentalists behind the music and lyrics, and Sarah Nixey, the vocalist who brings to life their songs with her sexy, yet haunting voice. ENGLAND MADE ME is a dark, haunted album that still shines through with deep pop moments.

"Girl Singing In The Wreckage" opens the album with a bright, bouncy pop melody that shines over Nixey's dark vocals. The hooks draw you in, and the vocals singing the lyrics quickly set off a red flag in your mind, as you hear something is wrong, but the music is too infectious to really be sad. So, you're stunned; listening to see if you can figure it out. "It's Only the End of the World" continues with a slightly pop melody coupled with Nixey's haunting vocals and the paralyzing tragic words she sings. "Child Psychology" is a sad, depressing number that finds Nixey storytelling rather than singing the majority of the way through, as she opts to speak out the melancholy lyrics. "Kidnapping An Heiress" catches you on a bouncy rhythm section, but attention always come back around to the vocals, which have tangled in their tragic tales of life and growing up. The four bonus tracks available on the US release (not the Europe one), "Wonderful Life," "Seasons In The Sun," "Factory Radio," and "Lord Lucan Is Missing," all find you in similar situations as the music reels you in and Nixey's voice, and the lyrics, hold you in.

Here is an overtly depressing album that seems too upbeat to really drown you in sorrow, but with Nixey's vocals and the harsh-life lyrics, your mixed emotions will keep you perplexed, and listening. I'll give it a B-.