BK & Associates
Beatmaker Sessions (Uprock Records)
By: Anthony E. Davis, Esq.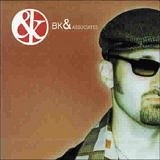 The thing that surprised me most about this album is that it's a Christian album. If you didn't pay close attention to the lyrics, you would never know. Now I don't listen to Christian hip hop, but that's because I had no real idea that it sounded like this. Turns out good Christian hip hop sounds a lot like good mainstream hip hop. Although the album is fairly down-temp, its nice to sit around and chill to. Jazz and funk sounds permeate throughout. Particularly pleasing is the hook on "Rhythm to the Rhyme" with a great guest appearance by the LA Symphony (whoever that is). My favorite was "Melodic Parabolic" with a sweet harmonica background (and maybe a hint of the accordion?), and some great rhymes by Freddie Bruno (another Uprok artist). "What's Real" is also good, with a guest appearance by yet another Uprock label mate, the Tunnel Rats, and some more interesting background instruments. This time it's an epic Asian flute and violin combination that makes you feel like you should be watching some band of kung fu heroes walk off into the sunset after defeating the bad guys and saving the local village.

This is a solid effort, with great production and skillful choice of background beats and instrumentals. Much props to Uprok Records, for backing the Christian rappers, in what is likely a difficulty path to commercial success. With rappers like BK it shouldn't be too long before Christian hip hop gains a strong following.